Baketball Ireland Hall of Fame Class 2020 — Michele Aspell
Michelle Aspell is roundly considered the greatest women's Super League player of the noughties for her exploits with Waterford Wildcats, UL and Ireland. A native of Kilcullen, Co Kildare, Aspell won three Player of the Year awards (2004, 2005 and 2008), six Super League titles (three with Wildcats from 1997 to 1999, then another three in a row with UL from 2003 to 2005), five National Cups (1998 and 2000 with Wildcats, 2003, 2004 and 2006 with UL), and four old Top Four National Championships (three with Wildcats, one with UL). Her consistency was astonishing; for 13 consecutive seasons she featured in every National Cup semi-final weekend and only once failed to reach the end-of-season semi-final stage – and even in that 2008 season she ended up as Player of the Year.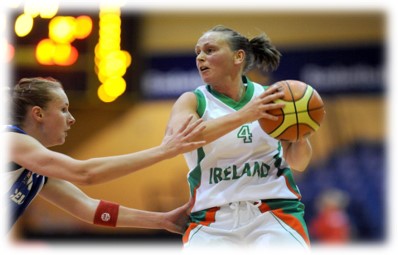 With her exceptional dynamism and guile, she was the outstanding scorer of her era. When UL won three consecutive Super Leagues in the mid-noughties, she averaged a remarkable 28 points a game in each League or Top Four final, while over the seven National Cup finals she played in from 2002 to 2009 (the last two, back with Wildcats), she'd average 21 points. She was also a stalwart for her country before finishing off with a game-high 18 points in a home win over Holland in 2009 which proved to be Ireland's – as well as her – last game at Eurobasket qualification level.
Michelle has continued to be actively involved in basketball since stepping away from the Super League level 10 years ago. Along with former UL coach Tony Hehir, she helped found Limerick Celtics who now participate in the national league and has coached numerous underage teams like Crescent College to All Ireland A schools titles.